COVID-19: FCTA Releases New Guidelines, Orders Non-Residents FCT Workers To Remain Where They Are
The Federal Capital territory Administration, FCTA has announced new guidelines for its citizens ahead of the implementation of the phased and gradual easing of the lockdown of the country's capital as announced by President Muhammadu Buhari in his nationwide broadcast on Monday April 27.
In a statement signed and released by the FCTA Chief Press Secretary, Anthony Ogunleye on Saturday, the FCT Minister, Mallam Muhammad Musa Bello said security agencies have been mandated to arrest and prosecute, through the mobile courts, anyone found contravening the guidelines.
Bello said the FCTA will vigorously enforce the overnight curfew from 8:00 pm to 6:00 am and in order to prevent possible patients of coronavirus from coming into the territory, will enforce very strictly, the ban on inter-state travel.
As with Ogun State governor, Dapo Abiodun who ordered that residents of the state who work in Lagos State are not permitted to move out or into the state, the FCTA said all workers who reside outside the country's capital have been directed to remain in their respective states of residence until the ban on inter-state travel is lifted.
Other directives of the guidelines include the ban on religious places of worship, while recreational areas, facilities and events such as clubs, bars, gardens, beer parlours, parks, communal sports facilities, movie theatres, etc, are to remain shut.
The ban on social congregations such as parties and weddings would also remain in force.
On public transportation, schools and academic institution, medical advisory, the minister stated: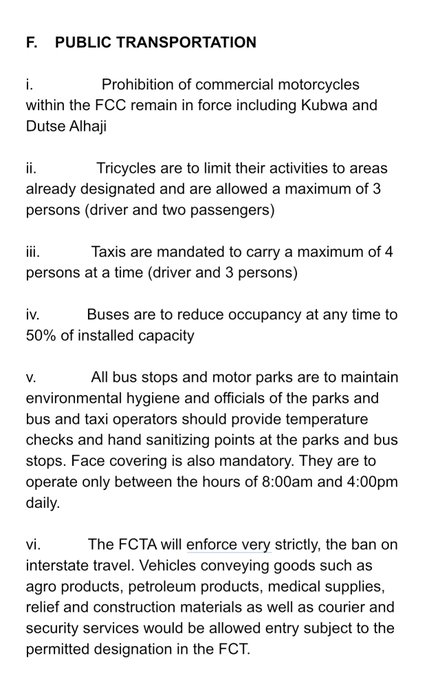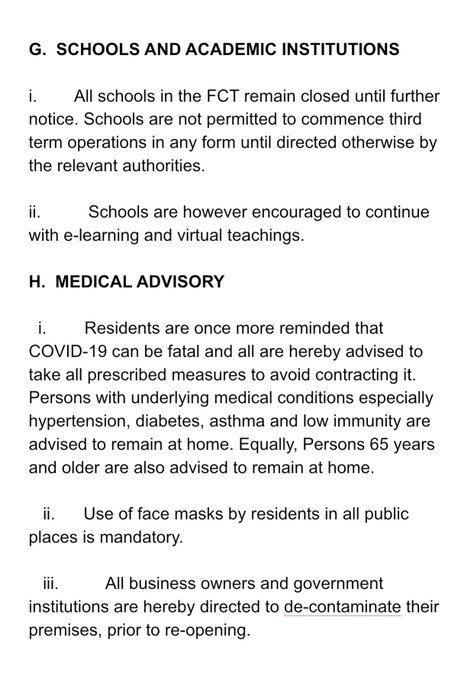 The FCT minister further reminded residents that COVID-19 is a very serious ailment that can be fatal and there was need for residents to follow all laid down health protocols.